298 photos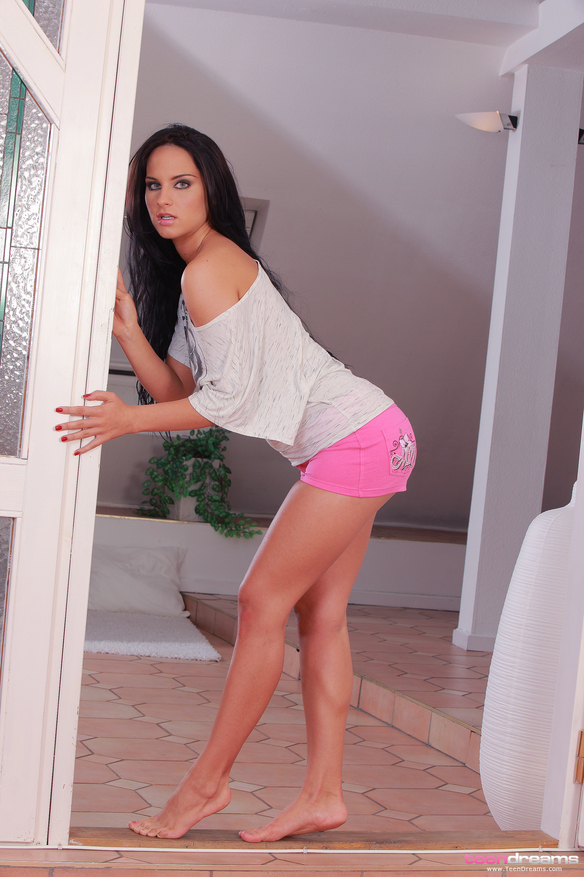 The very sexy and beautiful Bettina Di Capri is posing for us today, her hot teen ass the focus of much of our attention.  She really is a very beautiful girl, with stunning long legs and a sensational figure, anyone lucky enough to see her is sure to be impressed and aroused.  In this picture set her sexy long legs are on view for everyone to see.  They are topped off by a pair of cute tight pink shorts that cover her sexy teen ass.  She also wears a loose fitting white top.
Bettina definitely knows the way to be a teen tease as she poses in the doorway, revealing a little extra flesh each time.  He best features, apart from her beautiful face, obviously, are her sensational long legs and her pert, cute teen ass, and those are what these pictures focus on.  She stretches out her long legs in front of her and also pulls up her top to show off her torso, but it is still the legs that thrill you.
Legs done, it is time for sexy Bettina Di Capri to share her fantastic teen ass with us.  She turns around and looks over her shoulder, knowing that her ass looks so good in the tight teen shorts, if only we could see more.  Well she rewards us for our patience, revealing more of her ass by pulling the shorts up, he cheeks now bulging out in what makes a sexy and sensational picture.  She continues in this way, her hands pulling the tight shorts further so they look like a pink thong against her teen ass.
Bettina really is a beautiful girl and she loves to share pictures with her admiring fans.  If you wish to see this picture shoot in full, and to see Bettina's ass in all of its naked glory, then join us in the member's area where you will be thrilled with what you find.