25 photos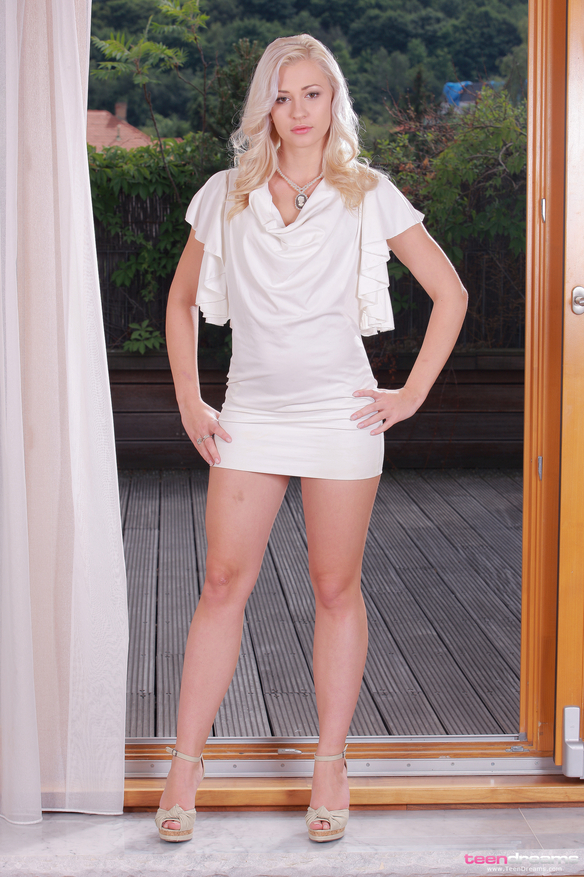 Here we see the return of the amazing Tracy Delicious.  If you have caught her previous work you will know that she is one of the sexiest, most sensuous 18 year olds that I think the USA has ever produced.  And I think when you take a look at Tracy in action today, and especially when you get to see her smooth teen pussy, you will be hooked and will just have to see more.
For today's shoot Tracy arrives wearing a very sexy white dress.  It looks so good against her pale skin and beautiful blonde hair.  Make no mistake, Tracy is one hell of a sexy girl and she is so confident in that knowledge that she is happy to share her entire body with her fans.
This amazing babe wastes no time in stripping out of her dress and underneath she is completely naked.  She has a beautiful pair of pert breasts, not too big but definitely not tiny.  They are topped off with a cute pair of nipples that from the look of them, reveal she is just a little turned on.  But it is not her breasts where our eyes gaze to. Oh no, there is a much better site for us, and that is Tracy Delicious' amazing smooth teen pussy.  It looks incredible as we gaze at her, shaven so cleanly.  It is tight but as she is so turned on it has swollen slightly, pushing her inner lips outwards so they can just be seen.  The way that Tracy sits tells us that not only is she is a little turned on but also very proud of showing her fine body off.
You should definitely check out more of Tracy, she really is so amazing.  She has a number of photo shoots inside the teen dreams member's area and I am sure that if you are lucky, she will return to make many more.  But a word of warning, Tracy will not stay a teen for ever!