19 photos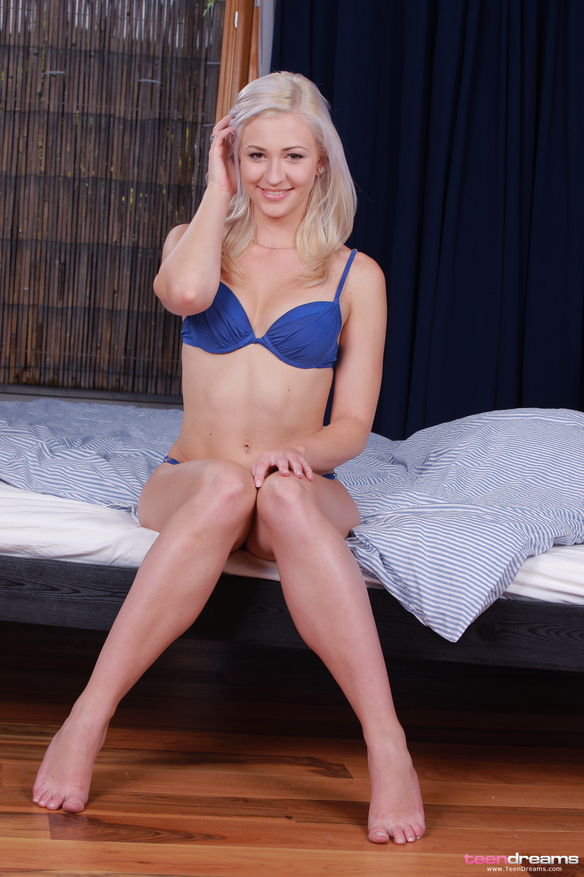 Tracy Delicious is one of the hottest teen babes I think I have ever had the pleasure to see.  Her engaging smile, perfect skin and long blonde teen hair make her a delight to the eyes.
In this incredible picture set the wonderful Miss Delicious starts sitting on the bed.  She is wearing just a set of blue matching bra and panties but the look in her eye and the smile on her face tells us that she is probably not going to be keeping them on for long.  And we are right as she starts on the blue bra, her soft young hand sliding gently across her bra until she is able to cup her breast inside it.  With a single pull she sets her teen tit free and what a stunning sight it is, all pert and firm and topped off with a little rosebud nipple.
With one hand sliding across her exposed boob she moves to the next one. This time her hand easily freeing her tit, she undoes the bra at the back and continues to rub away at her now rock hard nipples.
Tracy Delicious is a bit of a tease at heart and her next move is to deny us our perfect vision by taking her duvet from the bed and covering herself up.  When this is done to her satisfaction the blonde teen's hands slide beneath the covers and after a little wriggle, come out holding the blue panties.  Now this is too much, the hot blonde teen is naked and up to who knows what and we are unable to see her!
That situation does not last for long however, as the curvy 18 year old blonde teen throws back the covers to reveal her naughty secret, all the time she has been masturbating her teen pussy.  It is the most beautiful pussy you could ever see, all tight and shaven and running with her juices from the arousal she feels.
If you want to see more of Beautiful blonde teen Tracy Delicious or any of her friends then join us in the member's area.