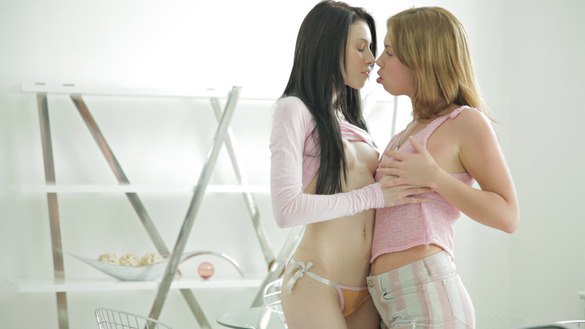 These sexy lesbian teens are about to put on a fantastic show, just for you, watch as they strip off out of their clothes and start to explore each other's beautiful bodies.
Out video starts with one of our beauties sat at the table sipping a glass of red wine, she casually rubs her finger around the top of the glass as she daydreams, her thoughts somewhere else entirely as her friend enter the room, half dressed and feeling horny. She walks over to the table, takes her glass of wine and playfully calls her friend over to join her as she stands there with her favourite buzzing sex toy.
She rubs it all over her body as her friend stands there and watches and as she rubs the buzzing ball over her breasts her nipple harden and become firm and pert beneath her top. She slowly moves the ball down her slender body, stopping at her panties, just gliding it up and down, the throbbing penetrating her underwear right through to her lovely shaved pussy.
Both lesbian teens are now fully in the mood as they kiss passionately as they help each other out of their clothes. Naked now, our girls take it in turns to pleasure each other. As one girl lies back with her legs open the other controls the action. Taking the buzzing ball in one hand she concentrates on the clitoris, making her friend writhe intensely with immense pleasure as she takes the fingers from her other hand and slides them into her beautifully shaven, hot, moist pussy, thrusting them in and out as she throbs wildly inside.
Swapping positions now to let the other girl experience the immense pleasure, our lesbian teens start all over again, bringing each other to climax and the point of no return!
Anita & Erica
Length: 25:10
Video Added: 2