128 photos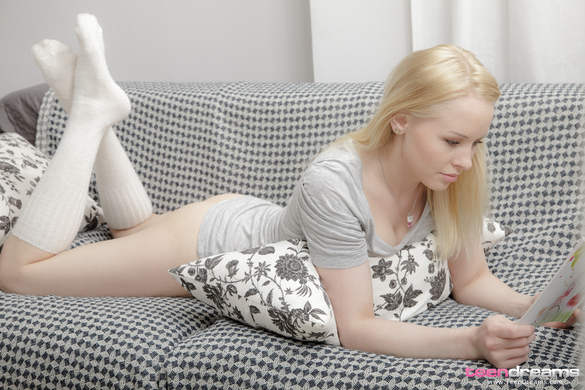 Beautiful blonde teen cock sucker Tori is relaxing at home.  She lays on the couch reading wearing a pair of long socks, a grey top and sexy white panties.  As she relaxes her guy looks on, casting admiring glances at her beautiful ass.  He casually wanders over to her and they start to kiss, gently at first but then getting more and more passionate
Tori turns over and his hands begin to explore her fine body, first caressing her hair as they kiss before his hand wander over her pert teen breasts.  Responding to her positive signs, he runs his hands back to her sexy tits, this time sliding them inside her top and turning the hot babe on.  This is only heading one way now and he pushes her top up with his hand, exposing her stunning tits with their pink nipples as he begins to lick and suck on them.  Tori purrs with excitement as she becomes more and more aroused.
With her top now removed, the guy then begins to work his way down her body, arriving at her pussy still covered by her crisp white panties.  He gathers the panties in his hand and pulls them tight between her lips, the fabric stimulating Tori's now throbbing clit. He pulls the panties to the side and begins to work her dripping pussy with his tongue, lapping up her juices as he flicks her button with the tip.
Now naked and aching with lust, Tori stands up and then sinks to her knees.  Her guy is now going to be rewarded by the teen cock sucker for all the attention he has paid her.  She pulls his hard cock from his jeans and starts to slowly suck on the tip before she takes the full length deep into her throat.
This teen cock sucker knows how to give head, despite her tender years, what a great girl!