251 photos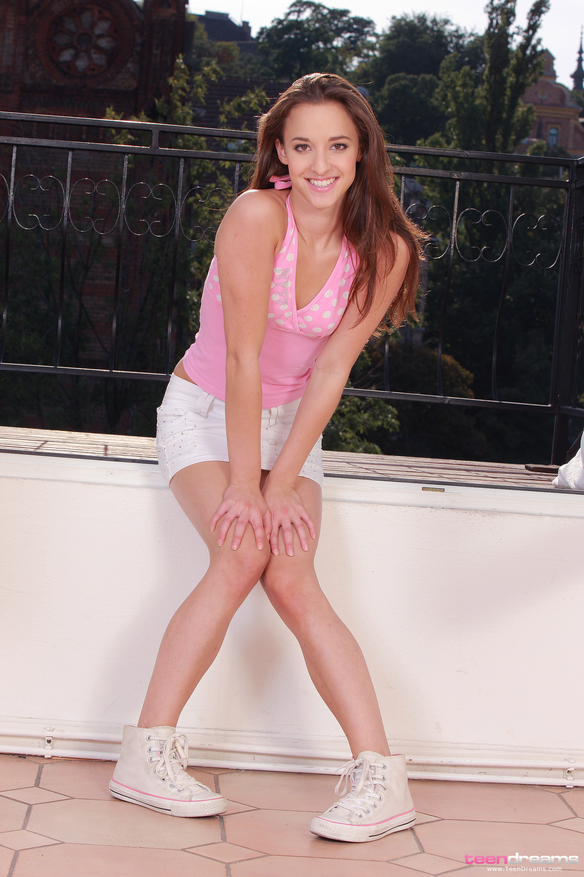 Just from the picture above, you have got to admit that Amirah looks amazing.  Her hot teen ass and beautiful long legs, make this 18 year old girl next door type from the United States a real favourite with the members of Teen Dreams.  She has long brunette hair, piercing eyes and suck a sexy smile, she knows that most men will be putty in her hands.
In this brilliant picture set Amirah is dressed on a pink vest top, a very short white skirt and a pair of white high tops.  She looks sensational, a real dream and the look in her face tells us she knows this.  She looks like she could be anywhere in the USA, a real girl next door, not overdressed or staged in any way.  Her teen ass is just about covered by the skirt, in the style that many teen girls wear.  She poses outdoors for a number of shots in a walled garden, her long legs and sexy midriff on view for us all.
Then she begins to up the ante, her skirt slowly and seductively inched up to reveal more and more of her hot, sexy teen ass.  She is wearing a pretty white pair of panties that reveal themselves to be a thong at the back.  The more the skirt is ridden up, the better this hot babes ass looks until it is fully on show.   She shows us the front of the panties, giving us just a hint of her shaved pussy before completely removing the skirt.  She now knows that she holds complete power over us and that seems to turn her on.
There is much more to see of the amazing Amirah, her hot teen ass dissected by her white panties is only the start.  You can see the full picture set, including Amirah in all her glory by logging in to the teen dream members area, and with girls like Amirah, you won't regret it!