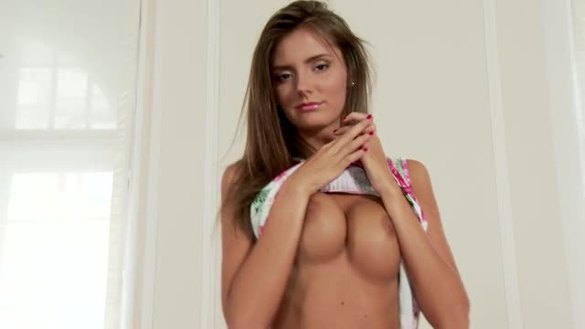 I love watching a good teen solo show. Seeing a girl who is fresh faced and beautiful, and happy with her own lot is a real bonus for me.  And in Sunshine we bring you a solo teen who really fits the bill.  She is an 18 year old form the USA, with a curvy figure, long dark hair and a real fresh look.  She has wonderful eyes and a smile that really melts hearts.
In this brilliant teen solo show she is about to reveal much more of herself to her hoards of new fans, for anyone seeing this is sure to be a huge fan by the end!  She starts the shoot wearing a cute flowery summer dress that is short whilst still being respectable.  She is sat on the couch on her phone, maybe checking Facebook, who knows.  Her long smooth legs seem to go on for miles and she makes a casual glance towards the camera giving us, the viewers a knowing glance.  It is now we get to see the true beauty in this girls eyes as the look projects an air of confidence, yet also knowing where this is headed.
Placing her phone down, Sunshine starts to slowly lift up her dress, exposing every inch or her sexy skin.  She pauses after it reaches her stomach, and we are rewarded with a view of her cute white panties, topped with a bow and covering the delights within.  She then continues to slide the dress up until the bottoms of her boobs are exposed, round and pert and promising so much more.  They deliver on the promise as her tits are fully exposed, with the cutest, pertest set of nipples I think I have ever seen.
Her hands wander over her tits as her top comes off, leaving Sunshine standing in just her panties.  Will this teen solo babe go all the way and lose her panties, well you will have to join us on the inside to see!
Sunshine
Length: 09:10
Video Added: 2