194 photos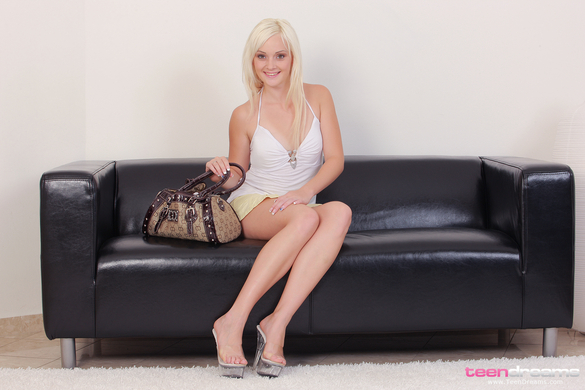 Sexy blonde teen babe Dolly Spice is a fresh faced 18 year old from the USA.  Her curvy figure and sexy innocent look are sure to make her a hit with all the guys.
In this great photo shoot, the blonde teen starts off sitting on her couch wearing a short yellow skirt, a pretty white top and a beautiful smile.  She also has with her, her purse that she holds down by her side.
Her innocent look though is soon proven to be false, as she delves into her purse and pulls out a glass dildo.  The smile on her face is no longer one of innocence, it is now down right dirty!  She stares longingly at the glass cock before she takes it and moves it to her mouth.  There she begins to lick and suck it, her imagination running wild as she thinks about it being a real dick.
Now we can see that the blonde teen babe is really turned on and she lies back on the couch.  Her one hand holds the dildo that she is still greedily sucking, whilst her other hand slips down to her waist and then up her skirt.  She sits up and opens her legs to reveal the yellow skirt is concealing a pair of bright yellow panties, her fingers flit across the front of them adding to Dolly's state of arousal.
She stands and turns round, bending over to reveal her pretty white ass, dissected by the yellow thong that you have already seen.  She takes off her top to reveal her tits, firm and young and topped off by puffy little nipples in a real state of arousal.
The sexy blonde teen is now only wearing her tiny yellow skirt and even tinier yellow panties, and she is still gripping the dildo that she sucks furiously.  What will she do next?  Will the panties come off and the dildo go in?  You will have to check that out inside the members area.