131 photos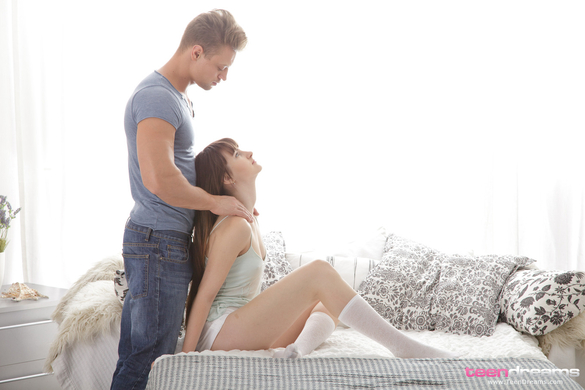 Meet Maribella, this gorgeous brunette babe looks like butter wouldn't melt in her mouth but she has a hidden talent for delivering the best teen blowjob ever.
She sits on the bed wearing a tight little top and shorts and sexy long white socks as she waits for her man.  The ambient light that pours in from the window backdrop frames her beautiful radiant body and makes her pale white skin glow.
Her guy enters the room and walking over to the bed he takes her by the shoulders, tenderly rubbing them as he tells her he has been waiting for her. She lifts her head upwards to look him in the eyes with a wry smile on her face that lets him know she is his for the taking. The teen couple enjoy a long and passionate kiss before he slowly slides his hands into her top, her nipples swell as he runs his warm fingers gently over those little dark nuggets. His hands start to explore more of her tender body, he pulls off her top, takes both breasts firmly in his hands and they begin to kiss again as he fondles her lovely small but juicy tits.
Adjusting her position to face him she takes him by the waist and pulls him towards her, he know now that her is about to get a fantastic teen blowjob and he hardens with anticipation. Her hands move down to his fly which she quickly unzips, she slides her hands into his pants and feels his hardness and she carefully takes out his cock and brings her face forward to meet it.
She sucks him long, hard and deep but this is a girl of many talents, not just giving a great teen blowjob, join us now to find out what happens next!