135 photos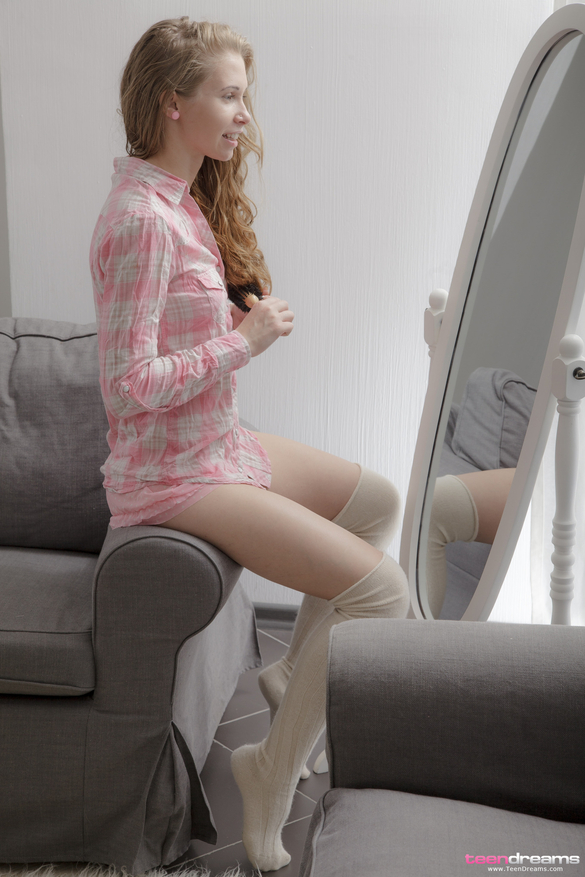 The sweet redhead, fair skinned Kali is the queen of teen blowjobs. In this stunning photo set she rewards her man with a long and lingering sensual blowjob that literally blows his mind.
She sits on the arm of the couch in her lounge wearing a pyjama top, long white over the knee socks and a pair of frilly pink panties. She is sat before a long dressing mirror, admiring the reflection of her beautiful body as she brushes her long red hair and waits for her man.
Spotting him coming into the room in the mirror a smile begins to form on her sensuous lips and as he walks over to her she turns to kiss him, a long and passionate kiss between two lovers. As they kiss his hand slides down her slender body and starts to slowly undo the buttons of her top. As each button pops her nipples swell with anticipation until at last they are set free.
The white milkiness of her beautiful pert breasts and her pink juicy nipples are simply too much to resist. He moves his head downwards, kissing her breasts, she feels the roughness of his tongue as he slides it across her nipples. She looks at him longingly as she slides herself out of her top and unzips his pants, about to reward him with one of her fantastic teen blowjobs.
His pants now off she lies on the couch and invites him over, she takes him into her mouth, his cock getting bigger and harder as she closes her sensuous lips around his manhood and sucks hard. She rubs her tongue up and down his shaft and flicks it around the head of his cock in a movement designed to drive her man wild.
I have to tell you, this is one of the best teen blowjobs I have ever seen!