272 photos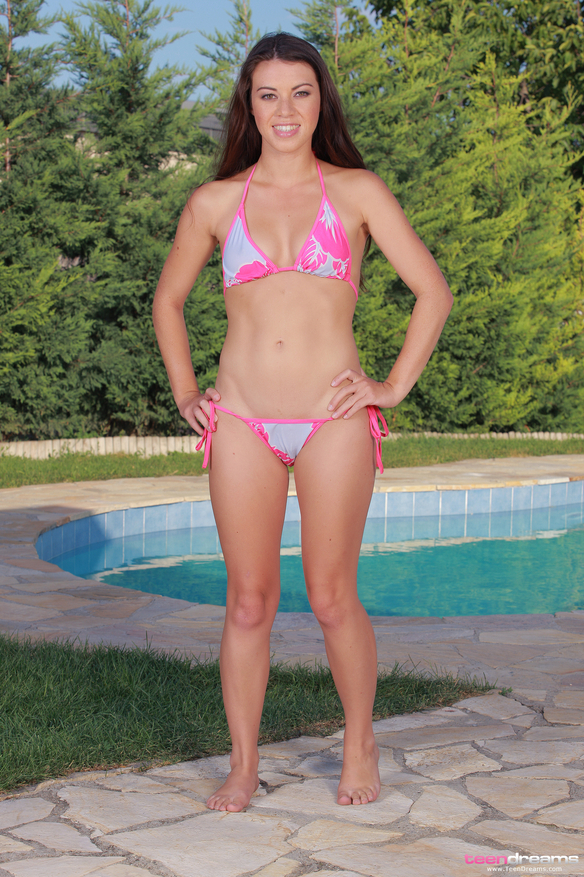 Back for another sexy picture set is the stunning bikini teen beauty Tiffany Doll.  Now just out of her teens, she is developing into such a hot young lady and really is a thrilling sight for this set, taken on a gorgeous sunny day by the pool.  Ever the fashion conscious, this bikini teen is wearing a great little two piece for us, made up of pink strings and white fabric with large pink flowers.
The ever confident Tiffany treats us to some stunning poses, first of all just looking very relaxed as she takes in the suns beating rays.  Her next move is to turn around, now she begins to show her pretty ass, still clad in the bikini, but giving us a real sense of the shapely charms within.  She turns back around and the look in her eyes tells us this bikini teen means business.  She takes her hands to the bikini bra and slowly pulls the fabric that holds her pretty teen breast inside away, to reveal said tits in all their glory, topped off by an amazing pair of nipples.  Her breast now exposed, after a couple more poses she loses the top all together, ready to move on with her stunning show for us.
She next slides her hands down to her bikini teen bottoms and looks again at the camera cheekily.  She really is getting a little hot here and her look tells us much more is to come.  She again turns around and this time with her delicious ass stuck out, she pulls the panties down to reveal her peachy behind, so ripe and good enough to eat.
There is no stopping Miss Doll now and she turns around, her bikini bottoms half way down her legs.  It is at this point we first get to see Tiffany's amazing pussy, smooth and bald and looking amazing.
If you would like to see more of Tiffany and her friends then join us in the Teen Dreams member's area!